Heritage Impact Assessment:
Walkway No. 1 at the W. Ross Macdonald School - City of Brantford, Ontario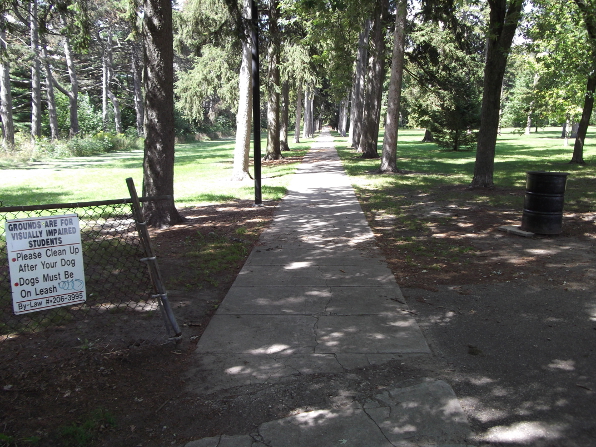 This assessment was conducted to determine the potential cultural heritage value or interest of Walkway No. 1. at the W. Ross Macdonald School in the City of Brantford. The school is a centre for education of blind and deafblind students.
The goal of the Heritage Impact Assessment was to:
collect and review existing background and heritage information on the walkway;
assess the heritage value of the walkway using the criteria in Ontario Regulation 9/06; and
recommend strategies for the conservation of the heritage values of the walkway and/or the mitigation of impacts to the walkway, if heritage value was identified.
Walkway No. 1 itself extends along a northwest-southeast axis over a distance of roughly 325m. The heritage values of Walkway No. 1 have little to do with the physical structure of the sidewalk itself. Instead, they are rooted in the history of its alignment and the aesthetic appeal of its context. Whereas the concrete and asphalt sections of the walkway are in poor physical condition and appear to have been laid at some point in the late 20th century, the alignment of Walkway No. 1 is of considerable age (the 1870s). This path appears in many of the earliest depictions, maps and views of the area. As such, it can be said to be integral to the planning and development of the Cultural Heritage Landscape of the southern portion of the property. This makes it a significant contributing component of the "views and vistas" associated with the W. Ross Macdonald School.